The Craftsman's Room at the VSAC

---
VSAC97 Time Machine: take a look at Ed Billeci's unbelievable 700lb., six-chassis, Western Electric 212E amplifier. We are still in awe that Ed built this massive project, disassembled it, transported it 200 miles from Portland to Silverdale, re-assembled it at the VSAC, and then repeated the process in reverse at the end of the show! Once you saw this 5-foot-high amplifier with no less than eight mercury-vapor rectifiers lit up, you never forgot what it looked like. Ask anyone who was there.
A close-up of the power supplies of Ed Billeci's "Ultimate Amplifier" ... the upper chassis powers the single driver tube, and the lower chassis powers the single 212E power tube. Not shown in this photo is the business end, with a transformer-coupled driver motivating the 212E power triode. (And we do mean power ... the very rare and costly WE212E effortlessly puts out 50 watts of single-ended power.)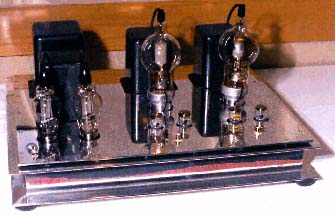 Flash forward to VSAC98, and we can see that Ed Billeci has wisely decided to reduce his chiropractor bills. He exhibited a beautifully polished single-chassis WE437/WE437/250TL stereo amp along with a curved Sato horn (not shown, but very impressive).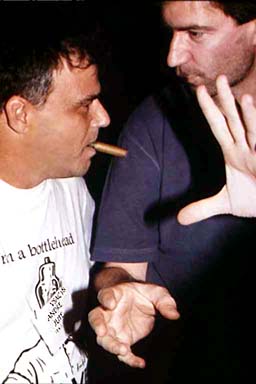 People came from all over the world to attend the VSAC98. Here's a trans-Atlantic visitor in a lively discussion with Mike LeFevre of Magnequest (is it cigars, fast motorcycles, or the right way to wind a transformer?).

Return to Nutshell High Fidelity


---

All Text and Photographs © 1998 Lynn Olson.